First Alert Forecast: Strong winds, thunderstorms & big waves possible as strong cold front moves thru
Published: Dec. 19, 2022 at 4:23 AM HST
|
Updated: Dec. 19, 2022 at 4:46 AM HST
HONOLULU (HawaiiNewsNow) - Numerous showers and thunderstorms are expected Monday, including a threat of severe storms that could produce strong winds and hail.
Potentially damaging southwest or kona winds will also develop Monday, with sustained winds of 20 to 30 miles per hour with potential gusts near 60 miles per hour for some areas.
Most of the strongest winds will be for downslope areas, especially Windward Oahu, downwind of Mount Kaala near Central Oahu, and north and east areas of the islands of Maui and Hawaii. However, strong winds will be possible wherever there are severe thunderstorms.
The potential for flash flooding is also increasing, with a chance for intense rainfall rates of 3 to 4 inches per hour as the front passes. This will fall on ground already saturated by yesterday's thunderstorms ahead of the front.
In surf, the low pressure area associated with the cold front will generate an extra-large northwest swell, with a high surf warning posted for the north and west shores of most islands through tomorrow afternoon. South shores will see a slight boost with choppy waves generated by the winds, while east shores will remain small.
Here are the current severe weather alerts:
High Wind Warning: All islands through 6 p.m. tonight. Sustained winds of 20 to 40 mph are possible with localized gusts near 60 mph.
Flood Watch: All islands until 6 a.m. Tuesday.
Winter Storm Warning: Summit areas of Mauna Loa and Mauna Kea until 6 a.m. Tuesday. Blizzard conditions will be possible, with snow accumulations up to 14 inches and wind gusts near 135 mph.
High Surf Warning: North and west shores of Niihau, Kauai, Oahu and Molokai and north shores of Maui until 6 p.m. tonight. Surf on north shores will peak near 30 to 40 feet, with west shores peaking at 20 to 30 feet this afternoon.
Gale Warning: All coastal and offshore waters until 6 p.m. tonight for SW winds 30-35 knots with 50-knot gusts, and seas building to 15 to 20 feet or higher.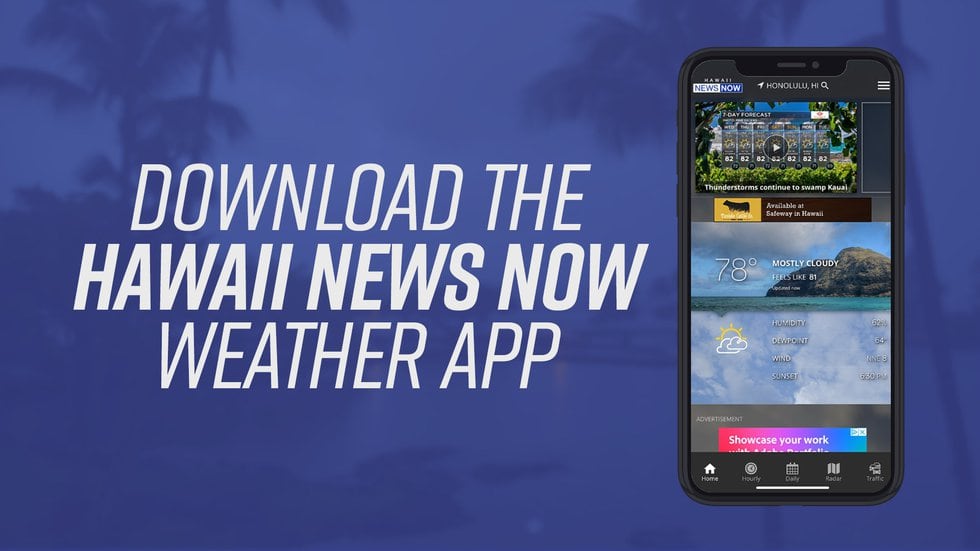 Get 10-minute weather updates, plus your 7-day forecast on Hawaii News Now Sunrise every weekday morning from 4:30 a.m. to 9 a.m. HST.
Copyright 2022 Hawaii News Now. All rights reserved.